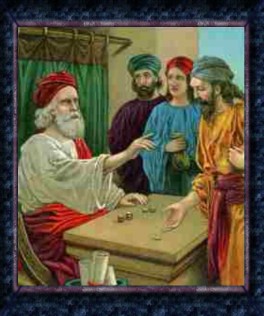 Talents
Christ on the Mount of Olives had spoken to His disciples of His second advent to the world. He had specified certain signs that were to show when His coming was near, and had bidden His disciples watch and be ready. Again He repeated the warning, "Watch therefore; for ye know neither the day nor the hour wherein the Son of man cometh." Then He showed what it means to watch for His coming. The time is to be spent, not in idle waiting, but in diligent working. This lesson He taught in the parable of the talents.
"The kingdom of heaven," He said, "is as a man traveling into a far country, who called his own servants, and delivered unto them his goods. And unto one he gave five talents, to another two, and to another one; to every man according to his several ability; and straightway took his journey."
The man traveling into a far country represents Christ, who, when speaking this parable, was soon to depart from this earth to heaven. The "bondservants" (R.V.), or slaves, of the parable, represent the followers of Christ. We are not our own. We have been "bought with a price" (1 Cor. 6:20), not "with corruptible things, as silver and gold, . . . but with the precious blood of Christ" (1 Peter 1:18, 19); "that they which live should not henceforth live unto themselves, but unto Him which died for them, and rose again"
(2 Cor. 5:15).
All men have been bought with this infinite price. By pouring the whole treasury of heaven into this world, by giving us in Christ all heaven, God has purchased the will, the affections, the mind, the soul, of every human being. Whether believers or unbelievers, all men are the Lord's property. All are called to do service for Him, and for the manner in which they have met this claim, all will be required to render an account at the great judgment day.
But the claims of God are not recognized by all. It is those who profess to have accepted Christ's service who in the parable are represented as His own servants.
Christ's followers have been redeemed for service. Our Lord teaches that the true object of life is ministry. Christ Himself was a worker, and to all His followers He gives the law of service--service to God and to their fellow men. Here Christ has presented to the world a higher conception of life than they had ever known. By living to minister for others, man is brought into connection with Christ. The law of service becomes the connecting link which binds us to God and to our fellow men.
To His servants Christ commits "His goods"—something to be put to use for Him. He gives "to every man his work." Each has his place in the eternal plan of heaven. Each is to work in co-operation with Christ for the salvation of souls. Not more surely is the place prepared for us in the heavenly mansions than is the special place designated on earth where we are to work for God.
Gifts of the Holy Spirit
The talents that Christ entrusts to His church represent especially the gifts and blessings imparted by the Holy Spirit. "To one is given by the Spirit the word of wisdom; to another the word of knowledge by the same Spirit; to another faith by the same Spirit; to another the gifts of healing by the same Spirit; to another the working of miracles; to another prophecy; to another discerning of spirits; to another divers kinds of tongues; to another the interpretation of tongues: but all these worketh that one and the selfsame Spirit, dividing to every man severally as He will." 1 Cor. 12:8-11. All men do not receive the same gifts, but to every servant of the Master some gift of the Spirit is promised.
Before He left His disciples, Christ "breathed on them, and saith unto them, Receive ye the Holy Ghost." John 20:22. Again He said, "Behold, I send the promise of My Father upon you." Luke 24:29. But not until after the ascension was the gift received in its fullness. Not until through faith and prayer the disciples had surrendered themselves fully for His working was the outpouring of the Spirit received. Then in a special sense the goods of heaven were committed to the followers of Christ. "When He ascended up on high, He led captivity captive, and gave gifts unto men." Eph. 4:8, 7. "Unto every one of us is given grace, according to the measure of the gift of Christ," the Spirit "dividing to every man severally as He will." 1 Cor. 12:11. The gifts are already ours in Christ, but their actual possession depends upon our reception of the Spirit of God.
The promise of the Spirit is not appreciated as it should be. Its fulfillment is not realized as it might be. It is the absence of the Spirit that makes the gospel ministry so powerless. Learning, talents, eloquence, every natural or acquired endowment, may be possessed; but without the presence of the Spirit of God, no heart will be touched, no sinner be won to Christ. On the other hand, if they are connected with Christ, if the gifts of the Spirit are theirs, the poorest and most ignorant of His disciples will have a power that will tell upon hearts. God makes them the channel for the outworking of the highest influence in the universe.
Other Talents
The special gifts of the Spirit are not the only talents represented in the parable. It includes all gifts and endowments, whether original or acquired, natural or spiritual. All are to be employed in Christ's service. In becoming His disciples, we surrender ourselves to Him with all that we are and have. These gifts He returns to us purified and ennobled, to be used for His glory in blessing our fellow men.
To every man God has given "according to his several ability." The talents are not apportioned capriciously. He who has ability to use five talents receives five. He who can improve but two, receives two. He who can wisely use only one, receives one. None need lament that they have not received larger gifts; for He who has apportioned to every man is equally honored by the improvement of each trust, whether it be great or small. The one to whom five talents have been committed is to render the improvement of five; he who has but one, the improvement of one. God expects returns "according to that a man hath, and not according to that he hath not."
2 Cor. 8:12.
COL p 325-328
-------------------------------------
Mental Faculties
God requires the training of the mental faculties. He designs that His servants shall possess more intelligence and clearer discernment than the worldling, and He is displeased with those who are too careless or too indolent to become efficient, well-informed workers. The Lord bids us love Him with all the heart, and with all the soul, and with all the strength, and with all the mind. This lays upon us the obligation of developing the intellect to its fullest capacity, that with all the mind we may know and love our Creator.
If placed under the control of His Spirit, the more thoroughly the intellect is cultivated, the more effectively it can be used in the service of God. The uneducated man who is consecrated to God and who longs to bless others can be, and is, used by the Lord in His service. But those who, with the same spirit of consecration, have had the benefit of a thorough education, can do a much more extensive work for Christ. They stand on vantage ground.
The Lord desires us to obtain all the education possible, with the object in view of imparting our knowledge to others. None can know where or how they may be called to labor or to speak for God. Our heavenly Father alone sees what He can make of men. There are before us possibilities which our feeble faith does not discern. Our minds should be so trained that if necessary we can present the truths of His word before the highest earthly authorities in such a way as to glorify His name. We should not let slip even one opportunity of qualifying ourselves intellectually to work for God.
The Lord desires us to obtain all the education possible, with the object in view of imparting our knowledge to others. None can know where or how they may be called to labor or to speak for God. Our heavenly Father alone sees what He can make of men. There are before us possibilities which our feeble faith does not discern. Our minds should be so trained that if necessary we can present the truths of His word before the highest earthly authorities in such a way as to glorify His name. We should not let slip even one opportunity of qualifying ourselves intellectually to work for God.
COL p 333,4
-----------------------------------
Speech
The power of speech is a talent that should be diligently cultivated. Of all the gifts we have received from God, none is capable of being a greater blessing than this. With the voice we convince and persuade, with it we offer prayer and praise to God, and with it we tell others of the Redeemer's love. How important, then, that it be so trained as to be most effective for good.
COL p 335
---------------------------
Upon every family, upon every individual Christian, is laid the duty of barring the way against corrupt speech. When in the company of those who indulge in foolish talk, it is our duty to change the subject of conversation if possible. By the help of the grace of God we should quietly drop words or introduce a subject that will turn the conversation into a profitable channel.
COL p 337
--------------------------------------
Influence
The life of Christ was an ever-widening, shoreless influence, an influence that bound Him to God and to the whole human family. Through Christ, God has invested man with an influence that makes it impossible for him to live to himself. Individually we are connected with our fellow men, a part of God's great whole, and we stand under mutual obligations. No man can be independent of his fellow men; for the well-being of each affects others. It is God's purpose that each shall feel himself necessary to others' welfare, and seek to promote their happiness.
COL p 339
----------------------------------------------------------
Time
Our time belongs to God. Every moment is His, and we are under the most solemn obligation to improve it to His glory. Of no talent He has given will He require a more strict account than of our time.
The value of time is beyond computation. Christ regarded every moment as precious, and it is thus that we should regard it. Life is too short to be trifled away. We have but a few days of probation in which to prepare for eternity. We have no time to waste, no time to devote to selfish pleasure, no time for the indulgence of sin. It is now that we are to form characters for the future, immortal life. It is now that we are to prepare for the searching judgment. The human family have scarcely begun to live when they begin to die, and the world's incessant labor ends in nothingness unless a true knowledge in regard to eternal life is gained. The man who appreciates time as his working day will fit himself for a mansion and for a life that is immortal. It is well that he was born. We are admonished to redeem the time. But time squandered can never be recovered. We cannot call back even one moment. The only way in which we can redeem our time is by making the most of that which remains, by being co-workers with God in His great plan of redemption.
COL p 342
----------------------------------------
Health
Health is a blessing of which few appreciate the value; yet upon it the efficiency of our mental and physical powers largely depends. Our impulses and passions have their seat in the body, and it must be kept in the best condition physically and under the most spiritual influences in order that our talents may be put to the highest use. Anything that lessens physical strength enfeebles the mind and makes it less capable of discriminating between right and wrong. We become less capable of choosing the good and have less strength of will to do that which we know to be right.
The misuse of our physical powers shortens the period of time in which our lives can be used for the glory of God. And it unfits us to accomplish the work God has given us to do. By allowing ourselves to form wrong habits, by keeping late hours, by gratifying appetite at the expense of health, we lay the foundation for feebleness. By neglecting physical exercise, by overworking mind or body, we unbalance the nervous system. Those who thus shorten their lives and unfit themselves for service by disregarding nature's laws, are guilty of robbery toward God. And they are robbing their fellow men also. The opportunity of blessing others, the very work for which God sent them into the world, has by their own course of action been cut short. And they have unfitted themselves to do even that which in a briefer period of time they might have accomplished. The Lord holds us guilty when by our injurious habits we thus deprive the world of good. Transgression of physical law is transgression of the moral law; for God is as truly the author of physical laws as He is the author of the moral law. His law is written with His own finger upon every nerve, every muscle, every faculty, which has been entrusted to man. And every misuse of any part of our organism is a violation of that law.
Strength
We are to love God, not only with all the heart, mind, and soul, but with all the strength. This covers the full, intelligent use of the physical powers.
Christ was a true worker in temporal as well as in spiritual things, and into all His work He brought a determination to do His Father's will. The things of heaven and earth are more closely connected and are more directly under the supervision of Christ than many realize. It was Christ who planned the arrangement for the first earthly tabernacle. He gave every specification in regard to the building of Solomon's temple. The One who in His earthly life worked as a carpenter in the village of Nazareth was the heavenly architect who marked out the plan for the sacred building where His name was to be honored.
COL p 346-348
---------------------------------------------------------
Money
God also entrusts men with means. He gives them power to get wealth. He waters the earth with the dews of heaven and with the showers of refreshing rain. He gives the sunlight, which warms the earth, awakening to life the things of nature and causing them to flourish and bear fruit. And He asks for a return of His own.
Our money has not been given us that we might honor and glorify ourselves. As faithful stewards we are to use it for the honor and glory of God. Some think that only a portion of their means is the Lord's. When they have set apart a portion for religious and charitable purposes, they regard the remainder as their own, to be used as they see fit. But in this they mistake. All we possess is the Lord's, and we are accountable to Him for the use we make of it. In the use of every penny, it will be seen whether we love God supremely and our neighbor as ourselves.
COL p 351
------------------------------------
Kindly Impulses
and Affections
Kindly affections, generous impulses, and a quick apprehension of spiritual things are precious talents, and lay their possessor under a weighty responsibility. All are to be used in God's service. But here many err. Satisfied with the possession of these qualities, they fail to bring them into active service for others. They flatter themselves that if they had opportunity, if circumstances were favorable, they would do a great and good work. But they are awaiting the opportunity. They despise the narrowness of the poor niggard who grudges even a pittance to the needy. They see that he is living for self, and that he is responsible for his misused talents. With much complacency they draw the contrast between themselves and such narrow-minded ones, feeling that their own condition is much more favorable than that of their mean-souled neighbors. But they are deceiving themselves. The mere possession of unused qualities only increases their responsibility. Those who possess large affections are under obligation to God to bestow them, not merely on their friends, but on all who need their help. Social advantages are talents, and are to be used for the benefit of all within reach of our influence. The love that gives kindness to only a few is not love, but selfishness. It will not in any way work for the good of souls or the glory of God. Those who thus leave their Master's talents unimproved are even more guilty than are the ones for whom they feel such contempt. To them it will be said, Ye knew your Master's will, but did it not.
Talents Multiplied by Use
Talents used are talents multiplied. Success is not the result of chance or of destiny; it is the outworking of God's own providence, the reward of faith and discretion, of virtue and persevering effort. The Lord desires us to use every gift we have; and if we do this, we shall have greater gifts to use. He does not supernaturally endow us with the qualifications we lack; but while we use that which we have, He will work with us to increase and strengthen every faculty. By every wholehearted, earnest sacrifice for the Master's service our powers will increase. While we yield ourselves as instruments for the Holy Spirit's working, the grace of God works in us to deny old inclinations, to overcome powerful propensities, and to form new habits. As we cherish and obey the promptings of the Spirit, our hearts are enlarged to receive more and more of His power, and to do more and better work. Dormant energies are aroused, and palsied faculties receive new life.
COL p 353,4